EValve Electric Valve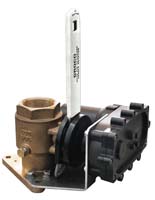 IT'S TIME TO EVOLVE WITH E-VALVE!
THE CONCEPT
Equipment that is used regularly is more reliable than neglected equipment. GROCO E-Valve removes the hassle from exercising seacocks and adds safety and convenience never before possible. E-valves may be controlled locally from the engine room, wirelessly from the helm via optional LCD-5 touchscreen, via the NMEA2000 backbone, or by PLC.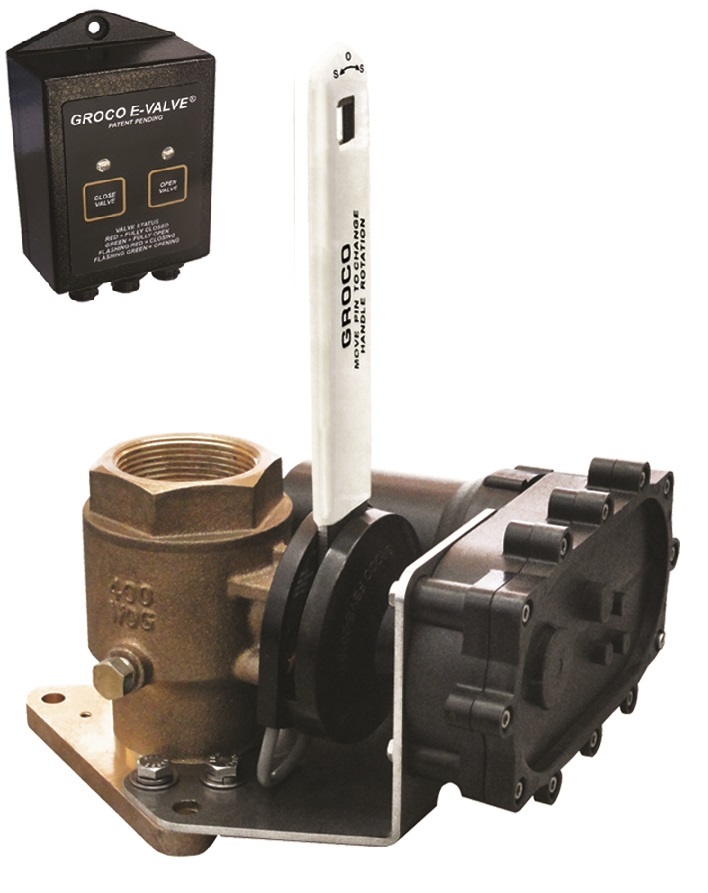 FEATURES
Made in the USA

Motorized (12V or 24V) valve operation for seacock sizes 3/4" to 3" (4" and 5" available soon).

High water level alert

Easy manual valve operation if power is lost.

"Automatic" option prevents engine flooding.

Requires less than 1 amp of power.

Gearbox is IP-67 rated and CP-712 compliant.

NMEA2000 ready.

UL listed seacock includes grease zerk fitting for lubrication.

"Basic E-Valve" offers push-button control from the engine room; Wireless operation from the helm with with optional LCD-5 touchscreen.

Optional LCD-5 touchscreen displays and operates multiple E-valves and provides many safety and convenience functions.
Basic E-Valve
Basic E-Valve includes a motorized seacock and a Control Module. OPEN VALVE and CLOSE VALVE functions are commanded by touching the buttons on the module, and valve position is indicated with red (closed) or green (open) LEDs. The Control Module alerts you to the presence of high water level at that specific E-Valve location, and includes provisions for automatic operation (order cable #11-2038-20 separately).

E-Valve may be connected to GROCO LCD-5 touchscreen, to a NMEA2000 backbone (screen by others), or may be operated from a PLC. Contact GROCO for details.

LCD-5 MONITOR

LCD-5 operates wirelessly, so it is independent from NMEA2000 and provides touchscreen control and monitoring from the helm (or any remote location) for all E-Valves on your boat. Safety and convenience features such as OPEN ALL, CLOSE ALL, and EXERCISE ALL, and set-up options allow individual E-Valves to open and close automatically or to be LOCKED (ie: sanitation systems or systems under maintenance). Each E-Valve icon is shown colored to indicate at a glance whether the seacock is open (green), closed (red), locked (blue), automatic (yellow), if there is a problem with a specific valve (orange), or if there is a high water level in a specific E-Valve location.

Set-up also allows you to view your vessel type on LCD-5 (cruiser, center console, sailboat, catamaran, etc) or the vessel plan can be customized to show your actual boat, and each E-Valve can be named (ie: Port Engine, Generator). and positioned on the screen to show their relative position on the vessel plan.

***Contact GROCO at 410-604-3800 for further details on how to order or for more information.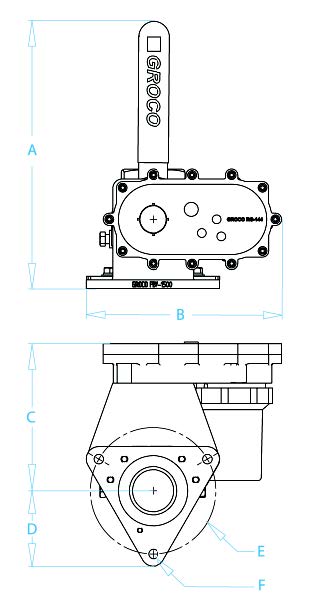 | Product Name | Thread Bottom NPS | Thread Top NPT | A | B | C | D | E | F |
| --- | --- | --- | --- | --- | --- | --- | --- | --- |
| | 3/4" | 3/4" | 6.1 | 6.4 | 4.5 | 2 | 3.12 | 3 x 5/16" |
| | 3/4" | 3/4" | 6.1 | 6.4 | 4.5 | 2 | 3.12 | 3 x 5/16" |
| | 1" | 1" | 7.3 | 6.5 | 4.8 | 2.1 | 3.38 | 3 x 5/16" |
| | 1" | 1" | 7.3 | 6.5 | 4.8 | 2.1 | 3.38 | 3 x 5/16" |
| | 1-1/4" | 1-1/4" | 7.1 | 6.6 | 5 | 2.3 | 3.62 | 3 x 5/16" |
| | 1-1/4" | 1-1/4" | 7.1 | 6.6 | 5 | 2.3 | 3.62 | 3 x 5/16" |
| | 1-1/2" | 1-1/2" | 9.5 | 7 | 5.2 | 2.7 | 4.5 | 3 x 5/16" |
| | 1-1/2" | 1-1/2" | 9.5 | 7 | 5.2 | 2.7 | 4.5 | 3 x 5/16" |
| | 2" | 2" | 10.1 | 7.3 | 5.5 | 3 | 5 | 3 x 3/8" |
| | 2" | 2" | 10.1 | 7.3 | 5.5 | 3 | 5 | 3 x 3/8" |
| | 2-1/2" | 2-1/2" | 12.4 | 9.2 | 6.7 | 3.6 | 5.88 | 3 x 3/8" |
| | 2-1/2" | 2-1/2" | 12.4 | 9.2 | 6.7 | 3.6 | 5.88 | 3 x 3/8" |
| | 3" | 3" | 14.8 | 9.7 | 6.7 | 4.2 | 7 | 3 x 3/8" |
| | 3" | 3" | 14.8 | 9.7 | 6.7 | 4.2 | 7 | 3 x 3/8" |
| | 4" | 4" | - | - | - | - | - | - |
| | 4" | 4" | - | - | - | - | - | - |
| | 5" | 5" | - | - | - | - | - | - |
| | 5" | 5" | - | - | - | - | - | - |