970 Series Hydromatic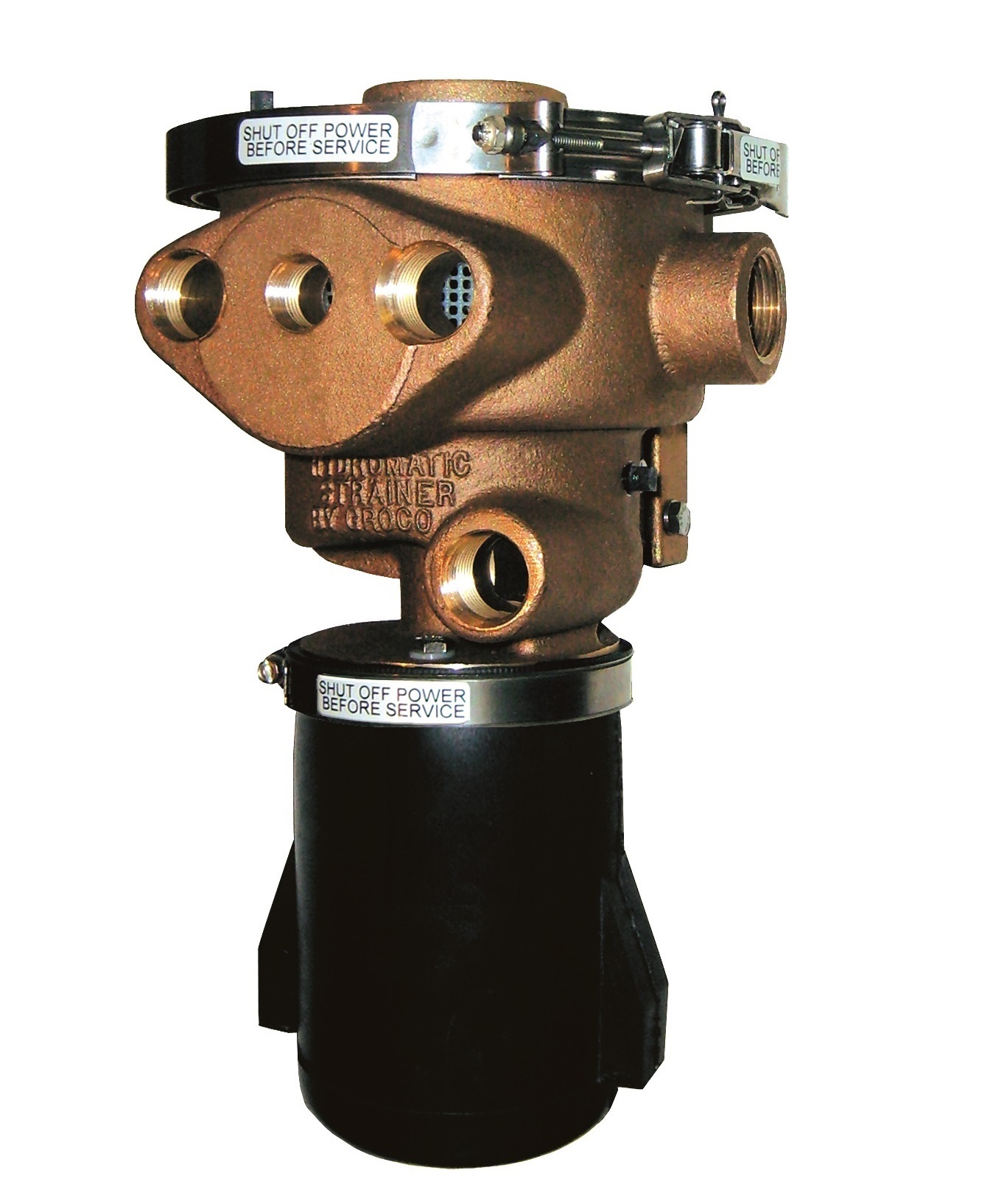 THE CONCEPT
As raw water strainers do their job, filter baskets become clogged with debris and flow to the connected device is reduced, resulting in the need for system shut-down for cleaning and maintenance. HYDROMATICTM strainers eliminate untimely shut-downs by conducting periodic self-cleaning cycles (the user selects the interval) with its powerful internal macerator. Debris is pumped overboard without shutting down the connected device.
970 series strainers accommodate multiple consumers with a choice of inlet sizes (1-1/2" or 2") and up to five 1/2" and 3/4" outlets.
FEATURES
30-second cleaning cycle is automatically performed at user-selected intervals.

Optional interface with SSA system ( initiates cleaning cycle when flow is reduced, independent of the pre-set cleaning interval.

The "Purge" option over-rides the selected interval and performs a one-time cleaning cycle.

Powerful macerator grinds debris and discharges overboard below the waterline.

"Ignition Protected" motors for DC models.

Installation can be horizontal or vertical (flooded inlet required)

Submrsible

C84400 bronze construction

Made in the USA
970-1500

Provides filtered water to multiple devices, and has a 1-1/2" NPT inlet port with multiple 1/2", 3/4" and 1" ports for connecting devices. Debris is pumped out through a 3/4" NPT port.

970-1515/2020

Provides filtered water to a single 1-1/2" or 2" device. Debris is pumped out through a 3/4" NPT port.
| Product Name | Inlet | Outlet | Debris Discharge | A | B | C | Open Area Ratio |
| --- | --- | --- | --- | --- | --- | --- | --- |
| | 1-1/2"NPT | (1) 1/2", (2) 3/4", (2) 1" | 3/4" NPT | 13.2 | 6.9 | 7.6 | 11:01 |
| | 1-1/2"NPT | 1-1/2"NPT | 3/4" NPT | 13.2 | 6.9 | 7.6 | 11:01 |
| | 1-1/2"NPT | 1-1/2"NPT | 3/4" NPT | 13.2 | 6.9 | 7.6 | 11:01 |
| | 1-1/2"NPT | 1-1/2"NPT | 3/4" NPT | 13.2 | 6.9 | 7.6 | 11:01 |
| | 2" NPT | 2" NPT | 3/4" NPT | 14.7 | 6.9 | 7.6 | 9:01 |
| | 2" NPT | 2" NPT | 3/4" NPT | 14.7 | 6.9 | 7.6 | 9:01 |